Welcome to Chip 'n' Dale Online –   a site by fans, for fans.  This is to be the ultimate resource for Chip 'n' Dale fans, a database of all things Chip 'n' Dale and Rescue Ranger related.  We're covering everything spanning from the earliest classic Chip 'n' Dale shorts to Chip 'n' Dale Rescue Rangers to the reinvisioned "classics" of House of Mouse and Mickey Mouseworks. We've included image galleries from each title; a media section with sound clips, music files and videos; as well as non-episode specific image galleries, with model sheets, concept art, wallpaper, promotional materials and more. This site is also home to an active message board community, with an integrated community gallery where our members can show off their Chip 'n' Dale and Rescue Rangers fan art and fan fiction.
All visitors to the site are encouraged to register for membership and help us make this site the best that it can be. We're always looking for new contributors, so if you think you have something to add – be it articles, rare images, reviews, or any summaries or character profiles you notice are either missing or could be expanded upon, please join us and share your knowledge!
Along with your membership, you gain access to posting on the forums, and uploading your own fan art and fan fiction to the gallery.
Register today and drop by the forums to say hello.   If you really are interested in becoming a part of the team, please read this post for more information.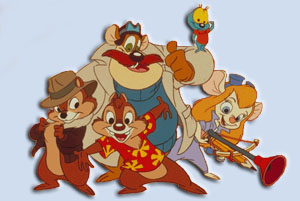 We encourage all newcomers to the site to register (it's FREE) to gain access to free multimedia downloads, participate in contests to win great prizes, and receive your very own gallery for showing off your creativity. Register today and drop by the forums to say hello. Who knows, you just might find some like-minded friends.

About the site:
Chip 'n' Dale Online was originally launched on January 6, 2006, with the addition of the community forums on January 10, 2006 – which is now recognized as the site's "anniversary." 
Staff:
Ducky
Owner / Webmaster / Administrator
Member since: January 2006
Light
Forum Lead Moderator
Member since: February 17, 2006
Alain
Forum Lead Moderator
Member since: August 17, 2006
Bryce
Forum Moderator / Contributor / Review Writer
Member since: January 9, 2010
Scifly
Founding Member / Retired Moderator
Member since: February 17, 2006
Regrin
Founding Member / Retired Moderator
Member since: April 22, 2006
Soda
Retired Moderator
Member since: May 30, 2007