Chip an' Dale


A Walt Disney Donald Duck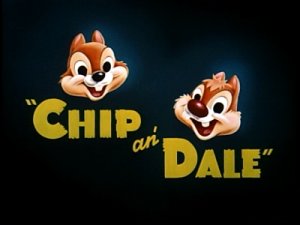 Release Date: November 28, 1947

Credits:
Director: Jack Hannah
Animators: Bill Justice, Volus Jones, Murray McClellan, Jack Boyd
Story: Dick Kinney, Bob North
Music: Oliver Wallace
Layout: Yale Gracey
Background: Ralph Hullett
Distributed by: Buena Vista Distrubution Co., Inc.
Characters:
Chip 'n' Dale
Donald Duck
Summary:

In the cold chill of winter, Donald goes out to chop down some firewood. Unfortunately, his firewood happens to be Chip and Dale's home.
Trivia
This short was nominated for an Academy Award.
This is the first time Chip and Dale are referred to by name.
The scene showing Donald lighting the log on fire has been cut from some recent showings.
Some trivia from The Encyclopedia of Disney Animated Shorts
Discuss this short in the Forums!